313F Hydraulic Excavator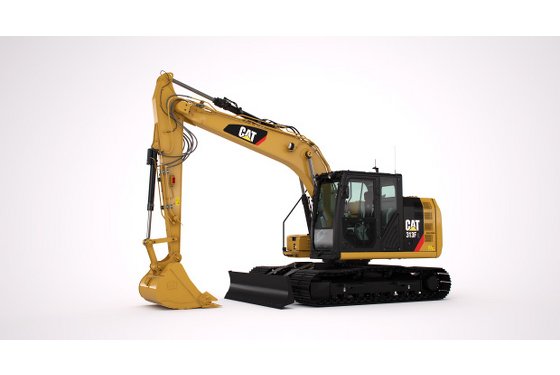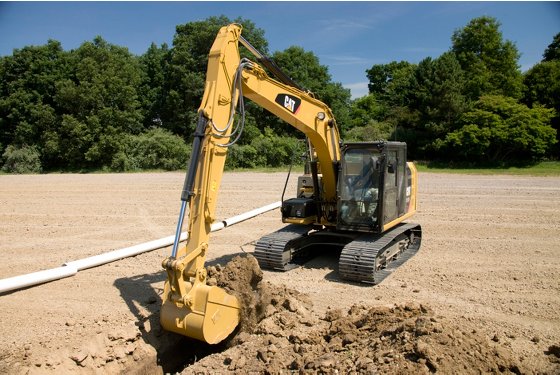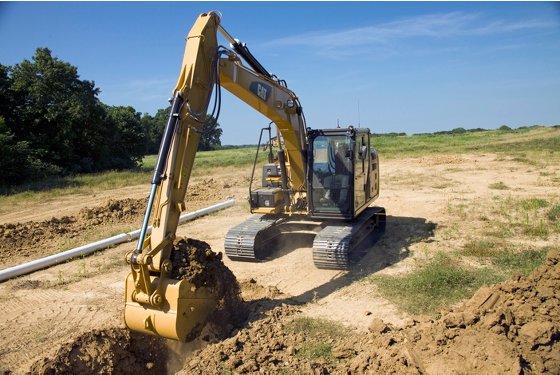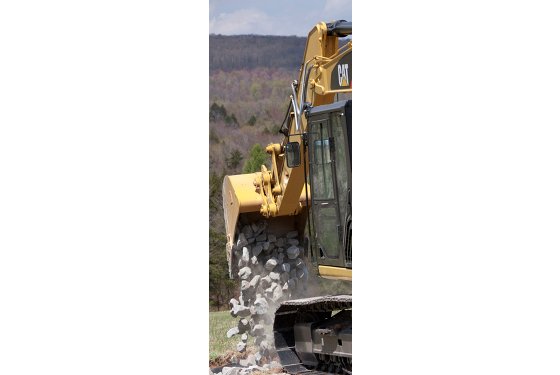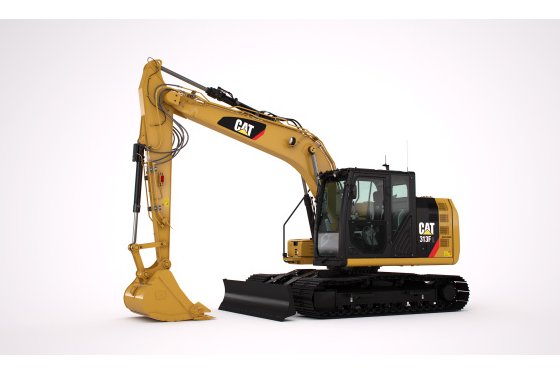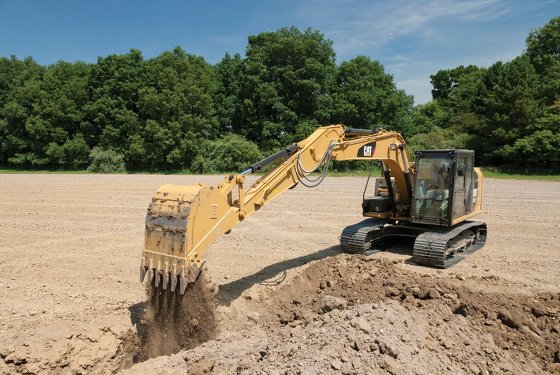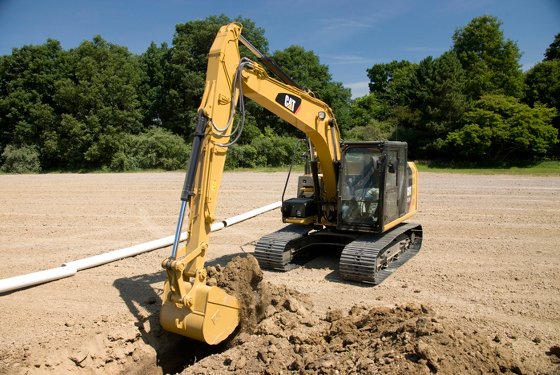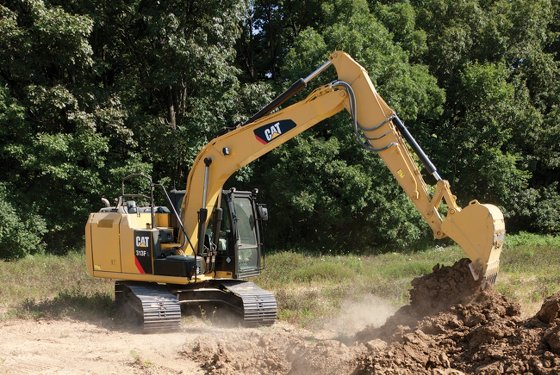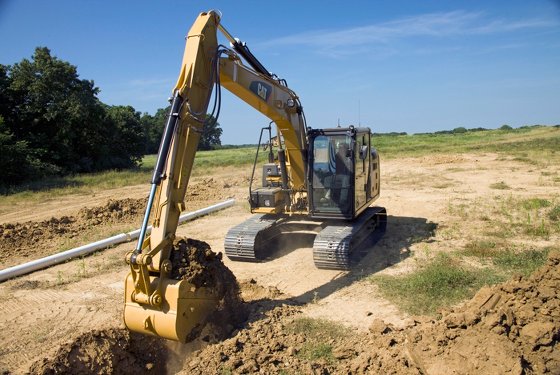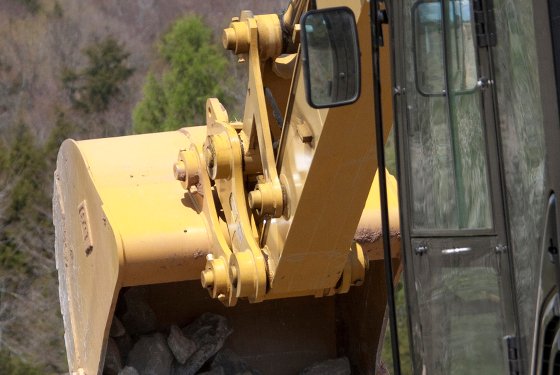 Overview
The Cat® 313F L excavator is a reliable and versatile solution for your light to medium duty applications. Featuring a fuel-efficientCat C4.4 engine, robust frames and components, and a state-of-the-art hydraulic system, the 313F allows you to move material all day with speed and precision.
313F Hydraulic Excavator - Specifications
Engine

Engine Power - ISO 9249

92 HP

68 kW

Engine Model

C4.4

Engine Power - ISO 14396

100 HP

74 kW

Bore

4.13 in

105 mm

Stroke

5 in

127 mm

Displacement

269 in³

4.4 l
Weights

Operating Weight

33080 lb

15000 kg
Working Ranges & Forces

Maximum Digging Depth

19.8 ft

6040 mm

Boom

Reach 4.65 m (15'3")

Stick

R3.0 m (9'10")

Bucket

GD .53 m3 (.69 yd3)

Maximum Reach at Ground Level

27 ft

8230 mm

Maximum Cutting Height

28.6 ft

8720 mm

Maximum Loading Height

20.8 ft

6330 mm

Minimum Loading Height

5 ft

1530 mm

Maximum Depth Cut for 2440 mm (8 ft) Level Bottom

19.3 ft

5860 mm

Maximum Vertical Wall Digging Depth

17.2 ft

5250 mm

Bucket Digging Force - ISO

95 lbf

21400 kN

Stick Digging Force - ISO

58 lbf

13100 kN
Hydraulic System

Main System - Maximum Flow

256 l/min (67 gal/min)

Maximum Pressure - Equipment

4424 psi

30500 kPa

Maximum Pressure - Swing

3626 psi

25000 kPa

Maximum Pressure - Travel

5076 psi

35000 kPa
Swing Mechanism

Swing Speed

10.9 r/min

10.9 r/min

Maximum Swing Torque

6946.6 ft·lbf

30.9 kN·m
Service Refill Capacities

Fuel Tank Capacity

66 gal (US)

250 l

Cooling System

2.9 gal (US)

11 l

Engine Oil

3.6 gal (US)

13.5 l

Swing Drive

0.6 gal (US)

2.4 l

Final Drive - Each

0.8 gal (US)

3 l

Hydraulic System - Including Tank

27.2 gal (US)

103 l

Hydraulic Tank

23.9 gal (US)

90.6 l

DEF Tank

5.2 gal (US)

19.6 l
Dimensions

Boom

Reach 4.65 m (15'3")

Stick

R3.0 m (9'10")

Bucket

GD .53 m3 (.69 yd3)

Shipping Height - Top of Cab

9.3 ft

2820 mm

Shipping Length

25.2 ft

7670 mm

Shipping Length - with Blade

26.1 ft

7960 mm

Tail Swing Radius

7.1 ft

2160 mm

Counterweight Clearance

2.9 ft

890 mm

Ground Clearance

1.4 ft

440 mm

Track Length

12.3 ft

3750 mm

Length to Center of Rollers

10 ft

3040 mm

Track Gauge

6.5 ft

1990 mm

Transport Width

8.8 ft

2690 mm
313F Hydraulic Excavator - Standard Equipment
BOOM AND STICK

4.65 m (15'3") reach boom
Variable angle boom
R3.0 m (9'10") stick
R2.8 m (9'2") stick
R2.5 m (8'2") stick
R2.1 m (6'11") stick
CAT CONNECT TECHNOLOGY

Cat GRADE Control 2D Depth and Slope
Cat AccuGrade™
ELECTRICAL SYSTEM

Right-side boom light
ENGINE

Electric priming pump
-25° C (-13° F) cold start capability
HYDRAULIC SYSTEM

Fine swing control
Auxiliary hydraulics
Quick coupler line
Boom lowering control valve
Stick lowering check valve
Two way control pattern quick-changer
Medium-pressure line
High-pressure line
SAFETY AND SECURITY

Bolt-on FOGS
UNDERCARRIAGE AND STRUCTURES

500 mm (20") triple grouser shoes
600 mm (24") triple grouser shoes
700 mm (28") triple grouser shoes
Rubber pad for 500 mm (20") triple grouser shoes
Center track guiding guard
Segmented two-piece track guiding guard
2500 mm (8'2") blade with replaceable cutting edge with lever control
2600 mm (8'6") blade with replaceable cutting edge with lever control
2700 mm (8'10") blade with replaceable cutting edge with lever control
313F Hydraulic Excavator - Related Products
G310B
H110Es
H115Es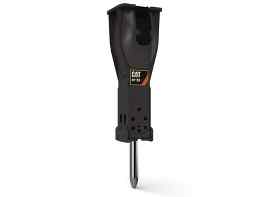 PERFORMANCE AND PRODUCTIVITY -

The Cat C4.4 engine can run on biodiesel up to B20 and meets U.S. EPA Tier 4 Final and EU Stage IV emission standards with an aftertreatment system that requires no maintenance or downtime.
Two power modes – eco and high power – help you manage fuel for the work you need to do.
Reduce engine speed and minimize fuel consumption during no-load or light-load conditions with automatic engine speed control (AEC).
Engine idle shutdown allows you to set intervals so you don't waste fuel; it also helps reduce emissions and wear and tear on your excavator.
Work at altitudes up to 2300 m (7,545 ft) above sea level without de-rating.
Get the job done with a powerful and efficient hydraulic system. Major components are located close together creating less friction, reducing pressure drops, and increasing power to the ground.
Save energy and improve fuel efficiency with boom and stick oil regeneration. This feature improves controllability, increases productivity, and reduces operating costs.
Don't let the temperature stop you from working. The excavator has a standard ambient temperature capability of 52° C (125° F). Standard cold start capability is -18° C (0° F) and an optional cold start package of -25° C (-13° F) is also available.

REDUCED MAINTENACE COSTS -

Spend more time working and less time greasing. Front linkage greasing intervals are 500 hours.
Check and service your machine faster with many ground-level routine service and maintenance points. Grouped filters and wide service doors allow easy access to the radiator, pump, air cleaner, and engine compartments.
Change your oil without the use of tools with the incorporated engine oil drain valve.
Three levels of fuel filtration protect the engine from dirty fuel.
Blowing out debris is easy with wide clearance between the radiator, oil cooler, and air conditioning condenser.
Extract fluid samples for analysis quickly and easily with S∙O∙S ports.

RELIABILITY YOU CAN COUNT ON -

Count on your machine to withstand wear throughout the years. Boom, sticks, and other high-stress areas are reinforced with thick multi-plate fabrications, castings, and forgings to ensure quality and reliability.
Self-lubricating bearings extend service intervals and increase the machine's uptime.
Elongated bolts secure the large swing bearing to help handle the most swing-intensive work.
Protect your moving parts with the Grease Lubricated Track (GLT) undercarriage. Keep water, dust, and debris out and grease sealed in while prolonging wear life and reducing travel noise.
Robust bottom guards protect machine components that may be damaged while swinging.
Hydraulic snubbers on the boom and stick cylinders reduce end-of-stroke impact prolonging the machine life.
Maintain track alignment and improve overall performance while traveling or working on slopes with an idler guard and bolt-on center guard.
The upper frame uses specially designed mountings to support the heavy-duty cab and the lower frame is reinforced to enhance component durability.
You are supported. The Cat Dealer Network is there to provide assistance when you need it.

TECHNOLOGY THAT GETS WORK DONE -

Product Link™ collects data automatically and accurately from your assets – any type and any brand. Information such as location, hours, fuel usage, productivity, idle time, maintenance alerts, diagnostic codes, and machine health can be viewed online through web and mobile applications.
Boost productivity with optional Cat GRADE Control 2D Depth and Slope. Receive real-time bucket tip elevation guidance for flat and sloping planes.
Upgrade to optional Cat GRADE Control – Depth and Slope, 3D capability which provides vertical and horizontal positioning at the bucket tip. The 3D design plan indicates precisely where to work and how much to cut or fill.

OPERATOR COMFORT AND CONTROL -

Work comfortably in the spacious, quiet cab with automatic climate control; an adjustable heated seat increases comfort and reduces operator fatigue.
Control the excavator comfortably with easy to access controls and switches.
Adjust the joystick consoles and armrests to a comfortable position.
Navigate quickly on the standard LCD monitor which is programmable in 42 languages.
Stow your gear with plenty of in-cab storage to the front and rear of the right-side console and behind the seat. A cup holder, document holder, and coat hook are also provided.
Keep your personal devices conveniently charged using the two standard 12V power ports. Each provide up to 10A of power.

BUILT-IN SAFETY FEATURES -

Rollover Protection Structure (ROPS) certified cab provides a safe work environment.
Enter and exit the cab and walk on the upper structure safely with handrails and anti-skid plating which are meant to reduce slipping and tripping.
Increase visibility with a standard rearview camera and mirrors. The camera is integrated into the counterweight to protect against damage.
Stay safe in an emergency situation. The skylight and 70/30 front window function as emergency exits.
The hydraulic activation lever lock cuts the pilot pressure for the control levers, preventing the operator from starting the engine when in a locked position.
Shut the engine down quickly and easily in the event of an emergency with a secondary engine shutoff switch.
Protect yourself from overhead impact with the optional Falling Objects Guarding System (FOGS) and other attachments available from your Cat dealer.

PURPOSE-BUILT CAT ATTACHMENTS -

Transition quickly between attachments with optional auxiliary hydraulics.
Expand your work capabilities with attachments for a variety of applications including breaking rock in quarries, preparing trenches, demolition work, and moving and handling material.
Cat dealers can install hydraulic kits to properly operate attachments, maximizing machine uptime and profits.