3512B Land Electric-Drive Drilling Module
Oil and gas drilling is a complex task that requires specialized power generation equipment. Cat 3500 power modules are specifically designed for drilling operations of electric AC rigs. They combine decades of field experience of the 3500 platform with the latest electronics to ensure highest performance, low emissions, and simplified operator interface. Cat power modules are backed by the worldwide network of Cat dealers ready to support your operation with technical support, service, parts, and warranty. 3512B land drilling power module ratings: 1045-1245 ekW (1492-1750 kVA) @ 50/60 Hz (1200/1500 rpm). Not emissions certified, available for non-regulated areas.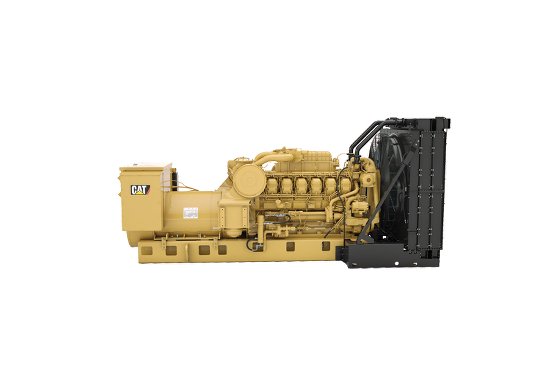 3512B Land Electric-Drive Drilling Module - Specifications
Engine Specifications

Minimum Rating

1045 ekW

1045 ekW

Maximum Rating

1245 ekW

1245 ekW

Emissions

Non-certified

Weight

30864 lb

14000 kg

Aspiration

Turbocharged-Aftercooled

Voltage

600

Stroke

7.48 in

190 mm

Generator Set Control

EMCP 4.3

Displacement

3158 in³

52 l

Generator

SR4B

Engine Control and Protection

ADEM A3

Fuel System

EUI

Bore

6.69 in

170 mm

Oil Change Interval

500 h

500 h
Capacity for Liquids

Cooling System - Engine

41 gal (US)

157 l

Lube Oil System - Refill

84 gal (US)

318 l
Dimensions

Length

238.2 in

6051 mm

Width

91.2 in

2318 mm

Height

104.7 in

2659 mm
3512B Land Electric-Drive Drilling Module - Standard Equipment
Air Inlet System

Heavy duty air cleaner
Remote air inlet adapter - rectangular
Remote air inlet adapter - round
Control System

Engine control options:
Load sharing governor, 2301A
Cooling System

Radiator options:
Coolant level sensor
Coolant conditioner
Cooling system connection options (for use with customer-supplied radiator):
Fan drive and belt guard (for use with remote and customersupplied radiators)
Fan pulley options (for use with customer-supplied radiator):
Exhaust System

1200 rpm model only:
1500 rpm model only:
Fuel System

Custom fuel filter
Primary fuel filter
Primary fuel filter with water separator
Generator Attachments

Barrel-mounted petroleum terminal box
Current transformers (3)
Cable access box
Instrumentation

Communications module PL1000T
Communications module PL1000E
Thermocouples installed, one per cylinder
Lubrication System

Custom oil filter
RH installed centrifugal oil filter
SAE15W40, Caterpillar DEO, 500 hour
Crankcase fumes disposal
Oil level regulator
Mounting System

Custom inner base
Custom outer base
Package isolator supports (3), for mounting inner base to customer-supplied base
Power Take-off

Alternator, 24V, 68A
Protection System

Explosion relief valves (3)
Metal particle detector switch
Metal particle detector with annunciator
Starting System

Custom starting motor
Air pressure regulator
General

LH installed engine barring group
Jacket water heater, UL recognized, 120-240V, single phase, 6 kW, LH and RH mounted
Jacket water heater, UL recognized, 120-480V, single phase, 12 kW, LH and RH mounted
Jacket water heater lines
Custom Packaging - For any petroleum application, trust Caterpillar to meet your project needs with custom factory generator sets and mechanical packages. Cat engines, generators, controls, radiators, and transmissions can be custom designed and matched in collaboration with our local dealers to create unique solutions. Custom packages are globally supported and are covered by a one year warranty after startup.
Testing - - Every Cat generator set is full-load tested to ensure proper engine performance. - Standard configurations are assembled, tested, and validated as a package to ensure performance, reliability and durability.
Product Support Offered Through Global Cat Dealer Network - - More than 2,200 dealer outlets - Cat factory-trained dealer technicians service every aspect of your Cat petroleum product - Worldwide parts availability, service, and warranty - Preventive maintenance agreements available for repairbefore- failure options - S•O•SSM program matches your oil and coolant samples against Caterpillar set standards to determine: • Internal engine component condition • Presence of unwanted fluids • Presence of combustion by-products • Site-specific oil change interval
Over 80 Years of Engine Manufacturing Experience - Ownership of these manufacturing processes enables Caterpillar to produce high quality, dependable products.
Web Site - For all your petroleum power requirements, visit www.catoilandgasinfo.com.