3508B Offshore Generator Set
Cat 3500 offshore generator sets are specifically designed for drilling and production operations offshore. Decades of experience powering offshore vessels and platforms make have evolved into a product that offers proven performance, low emissions, high durability, and low owning and operating costs.Applications for 3500 offshore generator sets include main power, essential services power, and emergency power on-board drilling and production rigs and vessels.Cat generator sets are backed by the worldwide network of Cat dealers ready to support your operation with technical support, service, parts, and warranty.Cat® 3508B offshore generator set. Ratings: 590-910 ekW (738-1138 kVA) @ 50/60 Hz (1000/1200/1500/1800 rpm). Meets IMO Tier I emission standards equivalent.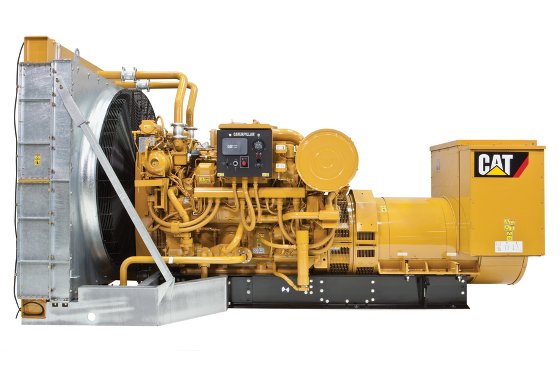 3508B Offshore Generator Set - Specifications
Engine Specifications

Minimum Rating

738 kV·A

590 ekW

Maximum Rating

1138 kV·A

910 ekW

Emissions

IMO Tier I

Bore

6.7 in

170 mm

Displacement

2116 in³

35 l

Stroke

7.5 in

190 mm

Fuel System

EUI

Engine Control

ADEM A3

Oil Change Interval

1000 h

1000 h

Weight

27503 lb

12475 kg

Aspiration

TUrbocharged-Aftercooled
Dimensions

Height

80.6 in

2048 mm

Width

70.2 in

1784 mm

Length

158.7 in

4031 mm
Capacity for Liquids

Cooling System - Engine

81.6 gal (US)

309 l

Lube Oil System - Refill

60 gal (US)

227 l
3508B Offshore Generator Set - Standard Equipment
AIR INLET SYSTEM

Remote Air Inlet Adapters
CHARGING SYSTEM

Battery Chargers
Charging Alternators
CONTROL SYSTEM

Load Sharing module
Local speed throttle control
Direct rack control interface, 0-200 mA DC control
COOLING SYSTEM

Coolant level sensors
Connections
Air separator
EXHAUST SYSTEM

Flexible fittings
Elbows
Flanges
Flange and exhaust expanders
Mufflers
FUEL SYSTEM

Fuel Cooler
Primary fuel filter
Fuel filters
Duplex fuel filters
Fuel level switch
GENERATOR ATTACHMENTS

Air filter — generator
Bearing temperature detectors
Cable access box
Manual voltage control
INSTRUMENTATION

PL1000T Communication Module
PL1000E Communication Module
Customer Interface Box
Remote panel display
Remote cylinder temperature display
Exhaust temperature thermocouples
Discrete I/O module
Intake manifold temperature sensors
Oil temperature sensor
LUBE SYSTEM

Duplex oil filter
Bypass centrifugal oil filter
500-hour oil pan
Emergency lube oil connections
Oil level regulator
Prelube
Sump pump
MOUNTING SYSTEM

Vibration isolators
POWER TAKE-OFFS

Auxiliary drive shafts and pulleys
STARTING SYSTEM

Air or electric starting motor
Redundant start with select switch
PROTECTION SYSTEM

Spray shielding
Crankcase explosion relief valve
Metal particle detector
GENERAL

Jacket water heater
Product Design - - Developed specifically to meet the demands of oil and gas applications- Proven reliability and durability- Robust diesel strength design prolongs life and lowers owning and operating costs- Market-leading power density- Designed to perform in oilfield conditions, including high ambient and high altitude applications- Long overhaul life proven in oilfield applications- Core engine components designed for reconditioning and reuse at overhaul
Ease of Installation - - Inner-outer base mounting configuration simplifies rig integration - Wide range of attachments enable configuration flexibility - Inner base three-point generator mounting maintains factory alignment - Single lifting point simplifies installation work
Advanced Digital Engine Management - - ADEM A3 engine management system provided engine control, monitoring, and protection.
Safety - - E-stop pushbutton on instrument panel - Air shutoff and explosion relief valves available - Configurable alarm, derate, and shutdown set points - Extra alarms, inputs, and outputs available
Custom Packaging - For any petroleum application, trust Caterpillar to meet your project needs with custom factory generator sets and mechanical packages. Cat engines, generators, controls, radiators, and transmissions can be custom designed and matched in collaboration with our local dealers to create unique solutions. Custom packages are globally supported and are covered by a one year warranty after startup.
Testing - Every Cat generator set is full-load tested to ensure proper engine performance. – Generator sets are assembled, tested, and validated as a package to ensure performance, reliability and durability.
Product Support Offered Through the Global Cat Dealer Network - More than 2,200 dealer outlets - Cat factory-trained dealer technicians service every aspect of your Cat petroleum product - Worldwide parts availability, service, and warranty - Preventive maintenance agreements available for repair-before- failure options - S•O•SSM program matches your oil and coolant samples against Caterpillar set standards to determine: • Internal engine component condition • Presence of unwanted fluids • Presence of combustion by-products • Site-specific oil change interval
Over 80 Years of Engine Manufacturing Experience - Ownership of manufacturing processes enables Caterpillar to produce high quality, dependable products
Web Site - For all your petroleum power requirements, visit www.catoilandgasinfo.com.